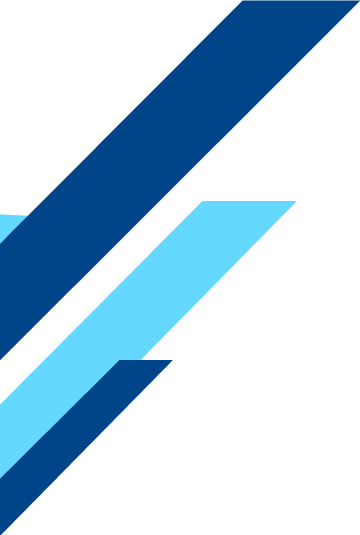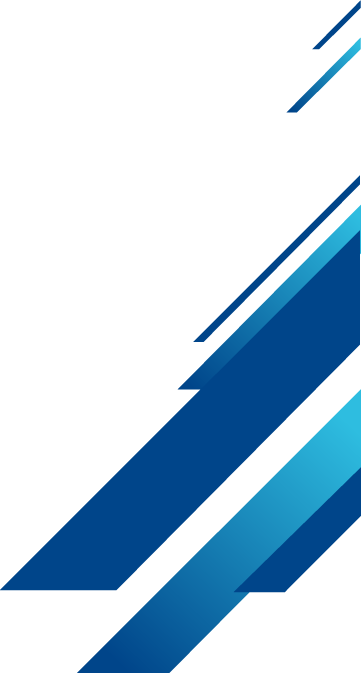 Benefit
.It is a low-cost system. You can use it to measure, record and manage pressure int the cavity. As youknow, injection pressure is an critical parameter in the quality of product.
.Measuring the pressure of the resin injection is helpful for improving product quality.
.We can use the Injection Molding Cavity pressure monitoring system to do some experiments. This is helpful for optimizing the time and conditions of mold forming.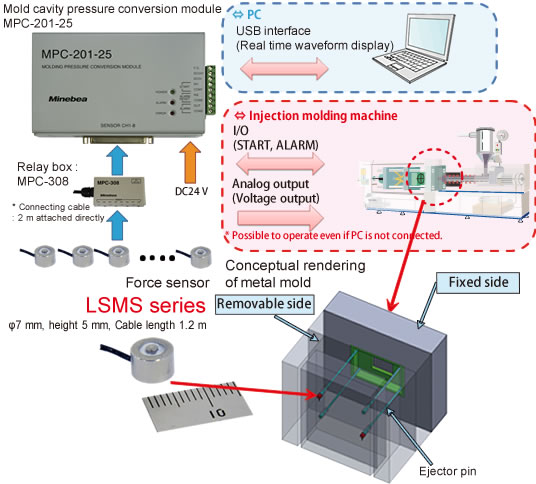 Adoption benefits
.Easily manage production quality through remote connection monitoring
.100% data access, providing complete production resume
.Available to set up molding condition data for mass production line in domestic factory
.Ejection pressure determine,protect the ejection pin and product
.With mechanical arm, you can choose bad products and prevent the production of continuous defective products
Standalone mode
TaskMaster Controller can automatically do quality judgment with PC,can be used with mechanical arm picking good or bad products,when the defective product too much can control the injection machine to stop production.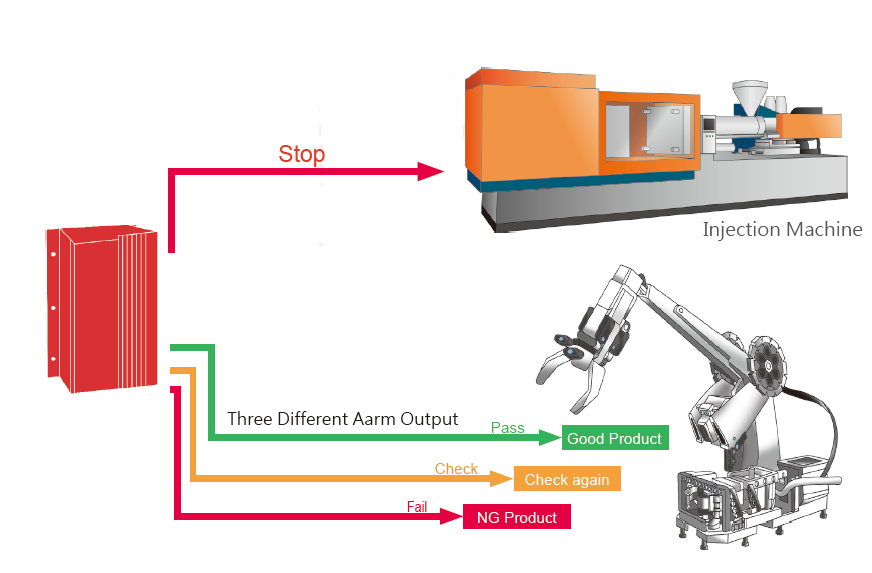 Network mode
TaskMaster controller can be connected to the factory through the Ethernet servo controller for full monitoring of the factory floor, and truly industrial 4.0.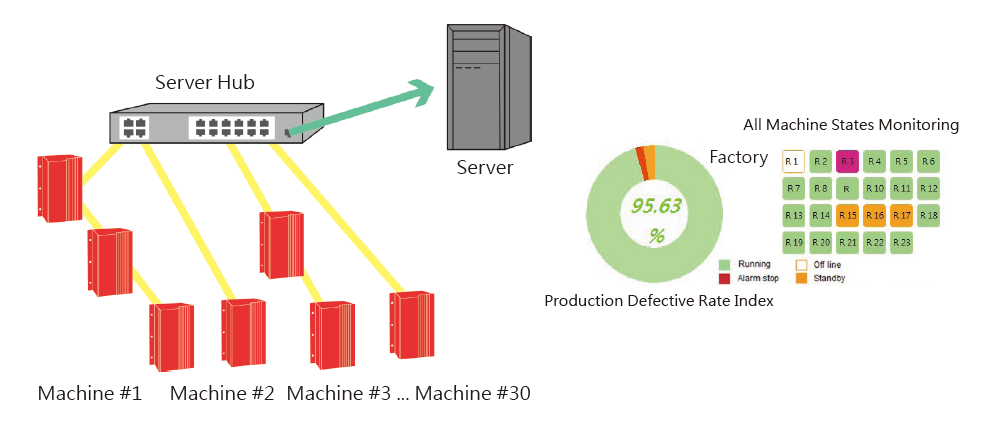 Cloud Mode
Through the handheld device or computer monitoring and parameter modification,easy to master production condition of different factory.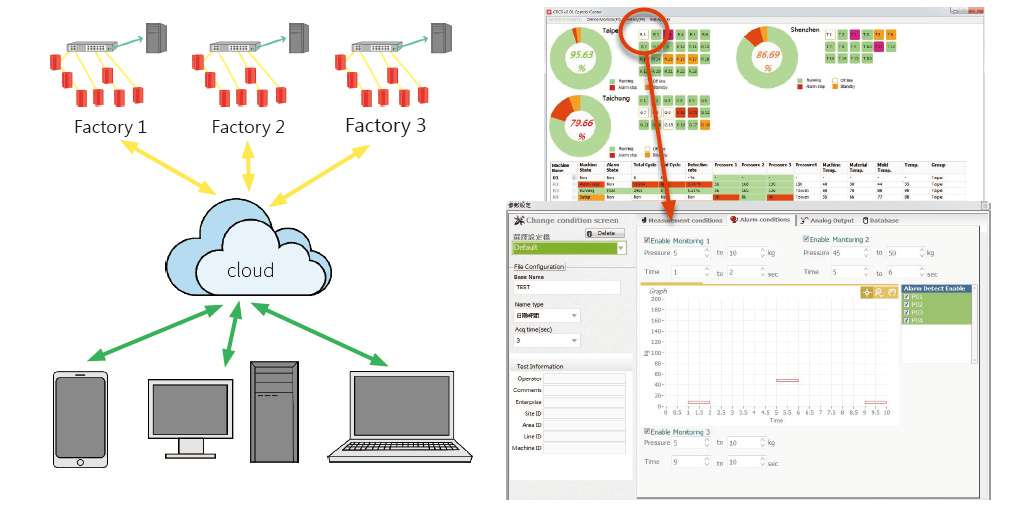 Basic software- TaskMaster IMC software
.Real-time graph display
.Overlay graph display
."Trend"graphs can be displayed to calculate maximum/minimum values,mean values,and standard deviations for each channel.
.Provide the Defective Rate, temperature and production condition information
.Up to 3 alarm setting per channe
.Monitoring each machine of factory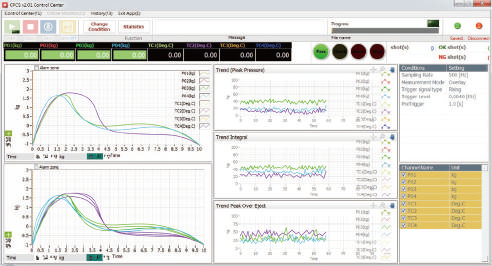 Cyberlink IMC software
Cloud monitoring software can easily integrate each factory information,through multiple graphs and information, provide production analysis, production efficiency assessment and machine usage condition.
In addition to this can also be a single machine for historical production history analysis. Suitable for quality highly anticipated, requiring the production process to be transparent and the best solution for standardization and the need for immediate management of production enterprises.
.Through the handheld device or computer monitoring and parameter modification
.The practical dashboard display shows all the key values at the a glance
.Easy to deploy production capacity, Control machine usage
.History data checking all the time, easy to analysis problem of production.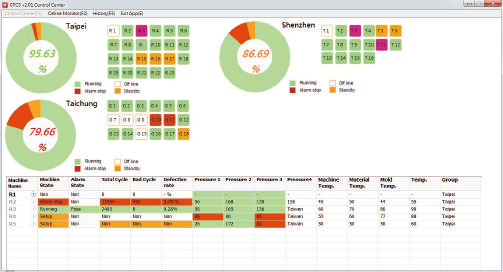 Controller
| | |
| --- | --- |
| TM 410 | TM 810 |
TaskMaster Controller

Model

TM 410

TM 810

Support QTY of Modules

4 set

8 set

Operating temperature range

-40 °C - 70 °C

Size

120.6 x 142 x 180 mm

120.6 x 142 x 272 mm

Weight

2.12 kg

2.82 kg

Interface

USB & EtherNet

Support flash drive access

Yes
Pressure sensor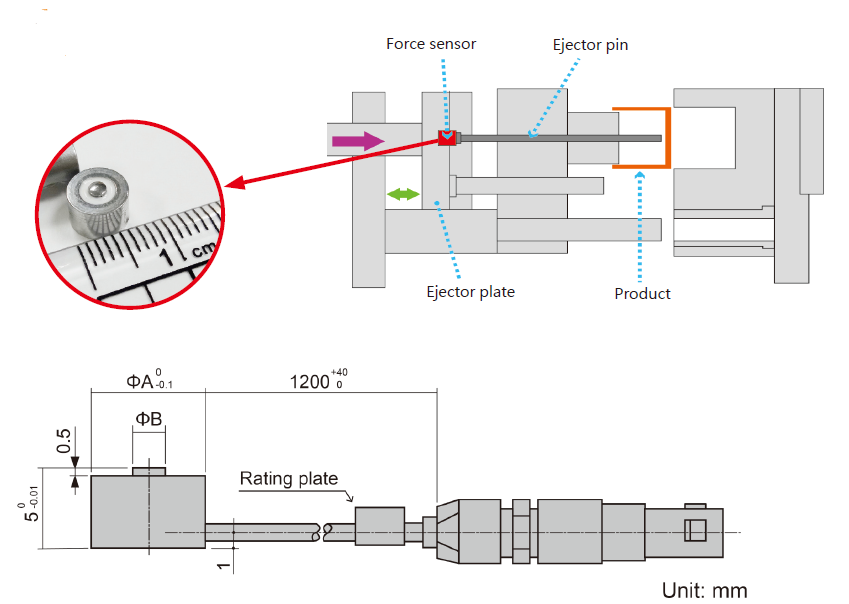 Model

Rated capacity

ΦA

ΦB

Natural frequency (Hz)

Rated displacement

(reference values)

Weight

(g,approx.)

CPS0720MS

196.1 N

(20 kgf)

7

2

67000

0.003

2

CPS0750MS

490.3 N

(50 kgf)

7

2

62000

0.005

2

CPS10100MS

980.7 N

(100 kgf)

10

3

85000

0.005

3
Rated capacity

196.1N (20kgf), 490.3N (50kgf), 980.7N (100kgf)

Ultimate overload

150 % R.C.

Safe overload

200 % R.C.

Non-linearity

1 % R.O.

Hysteresis

1 % R.O.

Repeatability

1 % R.O.

Temperature compensation range

-10℃ to 50℃

Safe temperature range

-20℃ to 150℃

Temperature effect on zero balance

1 % R.O./ 10℃

Temperature effect on output

1 % LOAD/ 10℃

Cable

1.0mm diia., 4-core shieided, 1.2m long,

direct end connectors

Minimum cable bending radius

5mm

Protection class

IP64

Element material

HRC42 stainless steel alloy or better

Fatigue life

1 million cycles with rated load
Module
Model

TC MCP4

(Mold cavity pressure module)

Channels of Qty.

4

Max sampling rate pre channels

50000 point/ sec/ ch

Accuracy

0/1 % F.S

Operating temperature range

-40℃ ~ 70℃
Model

TC MCT4

(Mold temperature module)

Channels of Qty.

4

Max sampling rate pre channels

3 point/ sec/ ch

Accuracy

0/1 % F.S

Operating temperature range

-40℃ ~ 70℃
Model

TM DIO8

( I/O control module )

Channels of Qty.

8
(4 input, 4 output)

Level of Voltage

12V or 24V

Input response time

7 ms

output response time

500 ms

Operating temperature range

-40℃ ~ 70℃
Model

TM AO8

( Voltage output module )

Channels of Qty.

8

output range

0~5Vdc

Accuracy

0.014Vdc

Operating temperature range

-40℃ ~ 70℃